everything coffee, kitchenware & commercial equipment
Max & Judy Hutchings have provided for the Northland hospitality industry for the past 25 years.  Initially, as wine distributors, then, when they saw a gap in local supply to commercial kitchens and hospitality businesses, they decided to fill it.  In doing that they have enabled the region's restaurants, cafés and accommodation providers to do what they do best, rather than having to travel South to stock up.  In recent years, their focus has shifted again to becoming the home of coffee distribution in the North, and they remain the culinary mecca for the Northland hospitality community.
The couple still keep their finger on the pulse, with Max designing commercial fit outs and judging coffee competitions, but they have handed over the running of the day to day business to their expert team – Terri, Rob and Dylan. These guys are a tight knit bunch that love coming to work every day. Each one of them is a passionate about the industry as Max and Judy. They bounce ideas off each other, have a lot of fun and enjoy the rapport they have with their customers, some of whom have been with the business since its inception.
The special ingredient that has kept the business thriving for a quarter of a century is the teams' holistic approach to everything they source. They pride themselves on being cutting edge and regularly attend trade fairs, coffee festivals and take part in hospitality competitions throughout the country.
Northland hospitality Team
The entire team are passionate about what they do and utterly obsessed with coffee.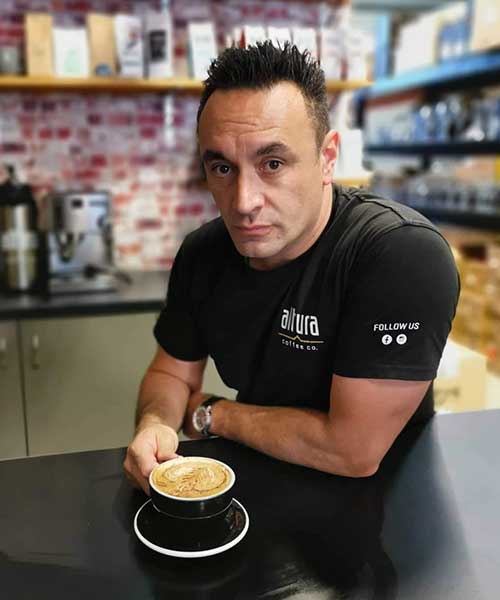 Robert (Rob) Tadman
Business Development Manager
Although Rob has been with the business for the past eight years, you might recognise from him behind the counter at one of his own cafe's. An avid coffee expert, Having competed and Judged in Barista Competitions, Rob relishes the opportunity to train and support barista's around Northland – keeping them up to scratch with the ever-evolving art form that is coffee from New techniques to state of the art equipment and coffee's forever changing industry. With this, he's able to ensure our region's coffee reputation is at the top of its game. Come the weekend, he hits the sports ground and beautiful Northland Beaches with the Wife and Kids.
Terri Millett
Finance Officer
Originally from England, Terri has been in New Zealand for 22 years and 13 of those years have been spent working with Northland Hospitality. She looks after the ordering, merchandising and business side of things. Terri says the best thing about working for Northland Hospitality is the great team she works with and the people she meets with everyday.
Monday to friday
9:00am - 5:00pm
Saturday & SUnday
Closed Weekends
Address
106 Lower Dent St,
Whangarei 0110